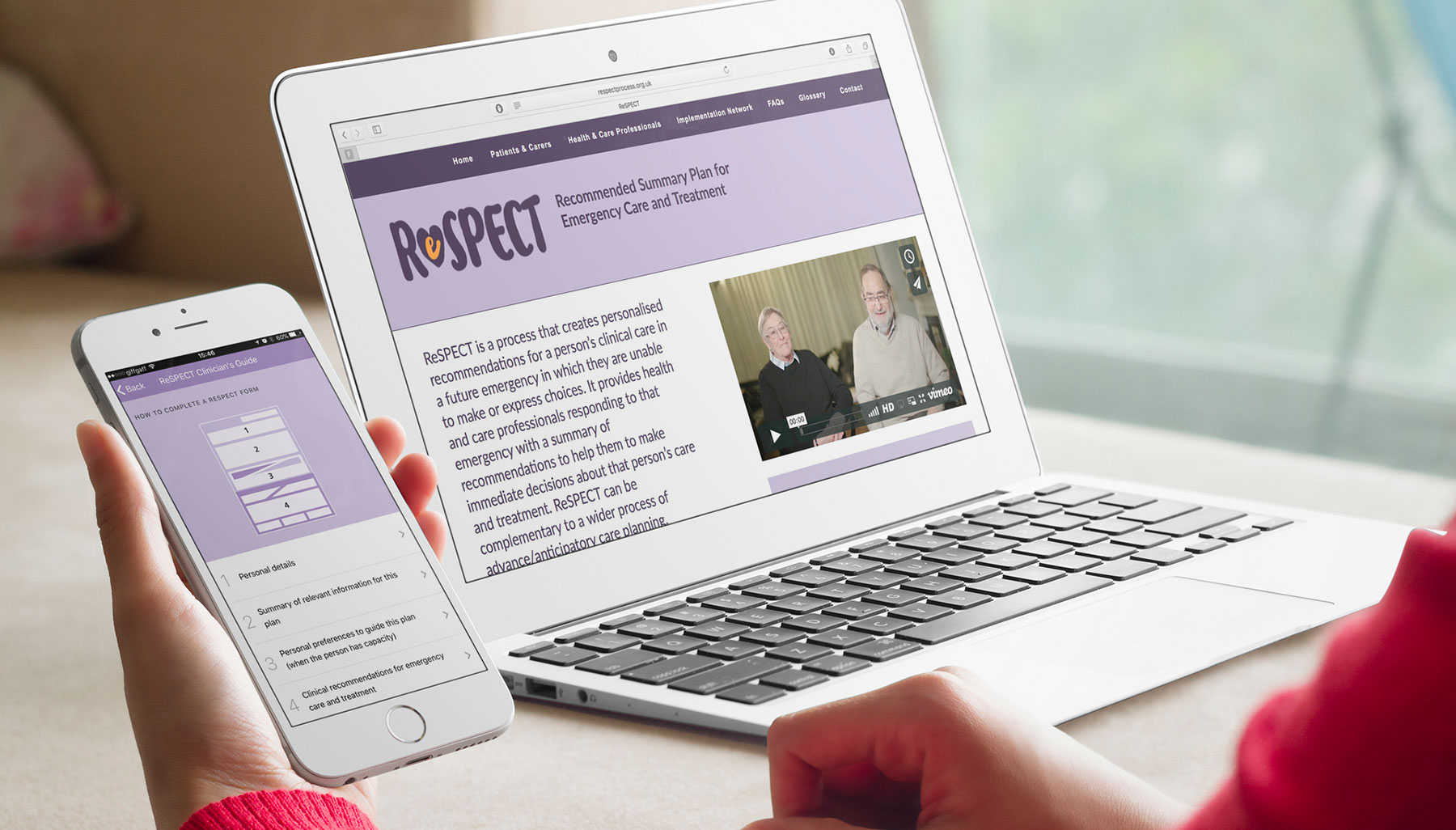 ReSPECT
Personalised care, even in an emergency
Nearly half of all deaths in the UK occur in hospitals. Despite such a large proportion of people dying there, only a tiny fraction actually want to. Discussing death in a hospital can be incredibly difficult, especially following an emergency admission. Patients and families expect to get better and doctors can find it hard not to try everything to save them.
We saw an opportunity to use human-centred design to tackle challenges in emergency care planning, which we believed could lead to wider discussions around end-of-life care treatments. We spent time with clinicians and staff in all areas of hospital care, from the emergency department to the oncology ward. We also followed the paper trail from admission through to discharge, and recognised that one process in particular, the Do Not Attempt Cardiopulmonary Resuscitation (DNACPR) form, was particularly fraught with problems. Clinicians, patients and families all told us that the use of a DNACPR form often led to confusion and distress around what treatments were going to be used in an emergency.
DNACPR forms are used to make specific clinical decisions for a patient if their heart or lungs stop working, but they've been linked to many problems. The forms vary between NHS Trusts and community settings. Even more tragically, there are well-documented stories of DNACPR forms having been created without the knowledge of the person or their loved ones. We knew that to make an impact in this area, we would need to be part of a group working across organisations, bringing together specific expertise.
The ReSPECT form
We are proud to have collaborated with the Resuscitation Council and a working group of over 30 national organisations - including the Royal College of Physicians, Royal College of Nursing, The National Council for Palliative Care, Care Quality Commission and others - to redesign the way in which difficult conversations about life-sustaining treatments are conducted and recorded, with a new form and process called the Recommended Summary Plan for Emergency Care and Treatment (also known as ReSPECT). We combined our design research insights, along with our information design expertise, to co-design a new plan and process that brings the patient to the centre of emergency care decisions.
Our goal was to improve the conversations between healthcare professionals, the patient and their loved ones, and create a comprehensive document that could capture healthcare decisions.
We believed that, with the right approach, we could design more than just a form, we could redesign the relationship around it.
ReSPECT features a visual device used to demonstrate that there is often a compromise between sustaining life and providing comfort and dignity. We helped to clarify this process for patients, to make it accessible and easy to understand.
One of the challenges in this area - especially around end-of-life - is that clinicians receive very little training in holding 'difficult conversations'. As we spoke with healthcare professionals, a consensus emerged about the type of training they really needed. As one consultant remarked, "Give me something on my phone, something in my pocket, something easy." We developed a prototype web application to provide accessible training and support to clinicians using the ReSPECT process. This prototype was then developed further, and delivered to professional audiences in a collaboration between our Clinical Research Fellow Dr. Gehan Soosaipillai, UCLPartners and Tom Stables Associates. This new digital tool enables healthcare professionals to learn about the new process with interactive training scenarios and discussion tips.
Since launching in February 2017, ReSPECT has been implemented in eight NHS Trusts, with over 140 organisations expressing interest across the UK and Ireland. We continue to collaborate with the Resuscitation Council on the roll out of the ReSPECT process, while Warwick University conducts a three-year evaluation. We're excited to see how the ReSPECT process develops iteratively over time as it spreads across the NHS. We know that discussions and planning for the end of life are profoundly difficult, which is why we continue to develop other digital tools to support care planning that go beyond emergency settings.