Hark: a clinical communication platform
Developing clinical task management for safer, more productive hospitals
Across an average hospital, thousands of clinical tasks are requested everyday. Currently, such tasks are routinely communicated through outdated technologies like pagers that make it very difficult to effectively manage, prioritise and audit activity. Doctors working in hospitals at night experience this problem acutely as they work across multiple wards making it very difficult to manage clinical tasks using pagers alone. Inefficient communication between clinicians could lead to missed opportunities to intervene in deteriorating patients or attend to new admissions as quickly as possible.
In this project, we shadowed junior doctors on their night shifts to see with fresh eyes the challenges of communicating with their colleagues as the events of a typical night in a busy hospital unfolded. This project was led by Dr Dominic King, the founding clinical lead of the Helix Centre, and resulted in a smartphone-based digital communication platform called Hark.
Hospitals are rarely quiet. Every hour, there are dozens of decisions to be made about which patient needs to see which clinician. We observed how they can easily receive a message on their pager every few minutes with requests to see patients on multiple wards.
Hark is a research-driven solution that provides a task management and collaboration platform delivered over mobile devices. It enables clinicians to escalate a task to a central list, allowing the task to be delegated to a qualified and available colleague. Hark also allows tasks to be prioritised by urgency, makes sharing of clinical data easier and allows performance to be evaluated through an audit trail.
Hark was tested through simulation within Imperial College Healthcare NHS Trust, and supported by published research that showed that it could improve response time to task completion and therefore impact positively on patient safety.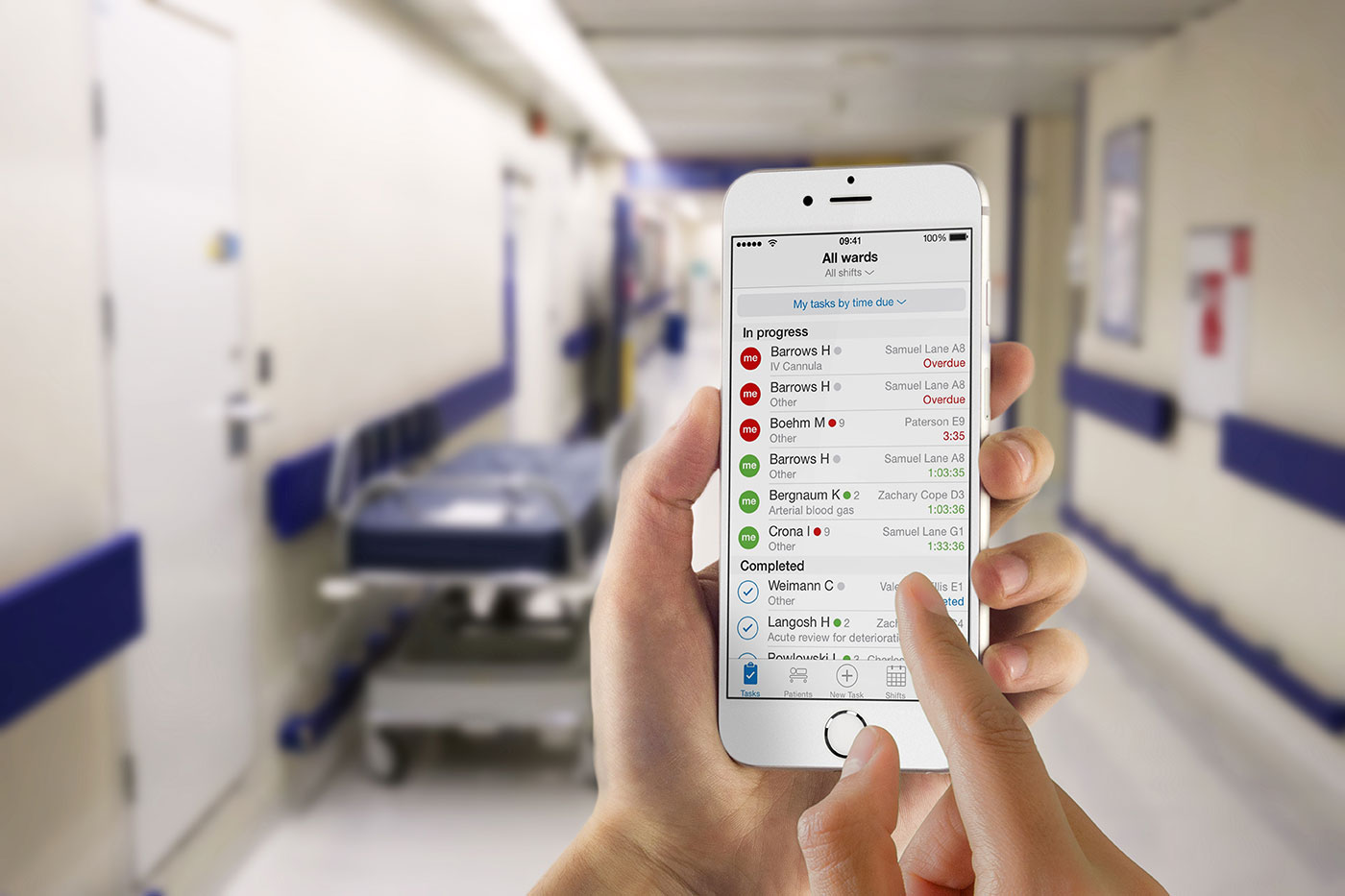 Hark on a doctor's smartphone
A platform such as Hark has the ability to deliver crucial information about the patient directly to the attending doctor, at the time it is needed. Through integration with the hospital's electronic patient record system, a task on Hark can also provide vital statistics and medical history for the patient to the doctor as she approaches the patient.
Data such as the number of admissions and length of stay is easy to collect, but difficult to act on. Hark provides insights into baseline activity way beyond traditional systems, using advanced analytics algorithms to individually tailor every task to every patient's need.
Furthermore, with current solutions it is very difficult to assess and improve the performance of a team in terms of distribution and completion of tasks. Hark offers a wealth of information that can be harnessed to improve the efficiency and safety of a hospital, including the well-being of the staff.
In pilot studies at Imperial College Healthcare NHS Trust we've shown it can improve information transfer within clinical teams in 22 out of 24 key areas of the hospital.
Our tests also prove Hark response times are 37% quicker than a pager.
Hark was acquired by DeepMind for further development and integration into a new product called Streams, aimed at identifying rapid deterioration in inpatients. Streams will go live at Imperial College Healthcare NHS Trust and in other hospitals across the UK and other countries in 2018.