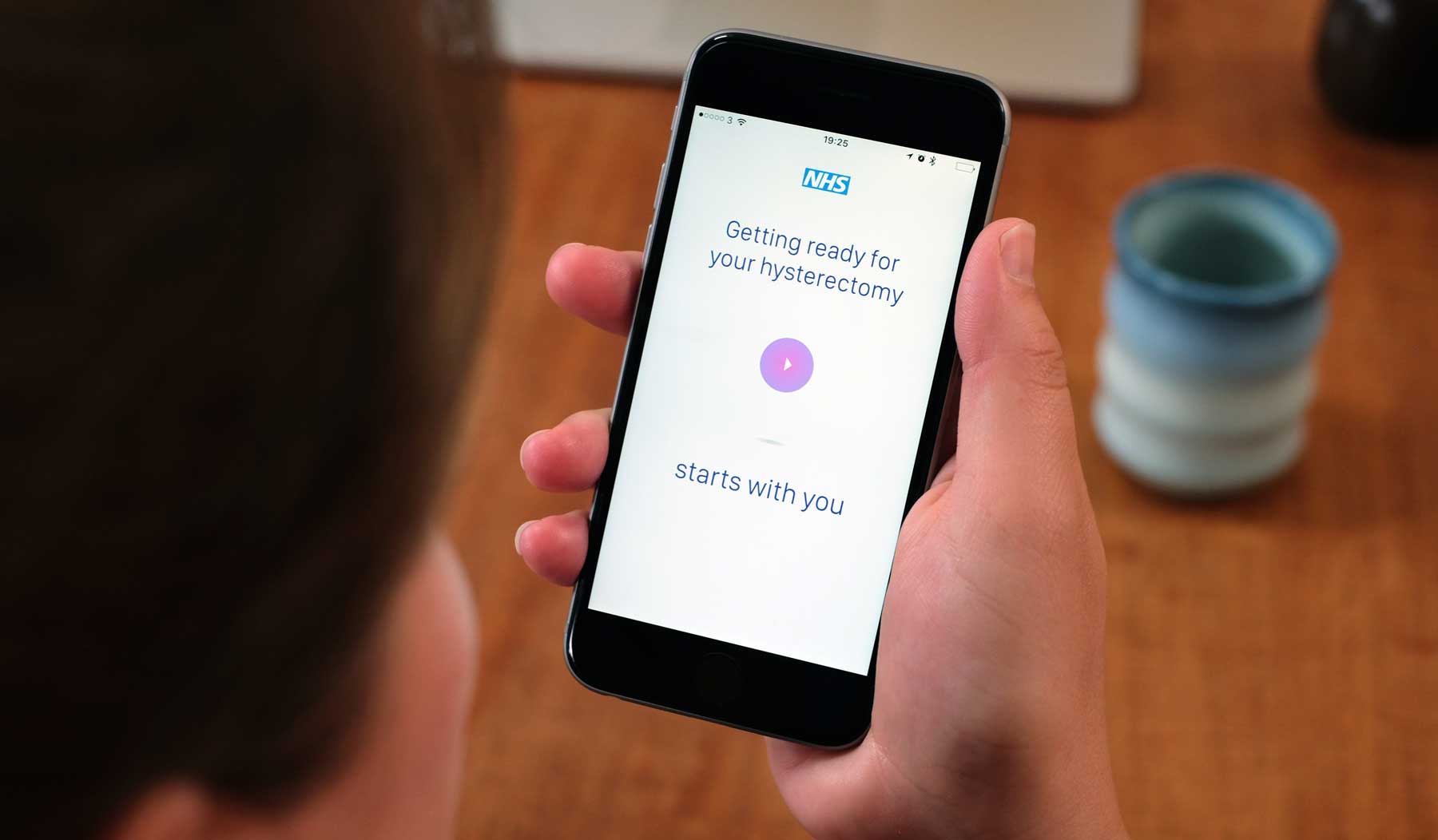 Patient Activation
Supporting women undergoing a hysterectomy with engaging pre-surgery information
Enhanced Recovery is an evidence-based programme of activity before, during and after certain surgeries, which has been shown to reduce length of stay, improve recovery rates and patient experience.
Examples of Enhanced Recovery activities include the consumption of carbohydrate rich drink, the use of short-acting anaesthetics by the surgical team and early mobilisation by the patient. The activities include both tasks led by patients and those led by clinical staff. While there is considerable evidence for its positive impact in colorectal surgery, there has been less research within gynaecology. An interdisciplinary team at Helix Centre set out to investigate the barriers to successful and sustained implementation of Enhanced Recovery for hysterectomy.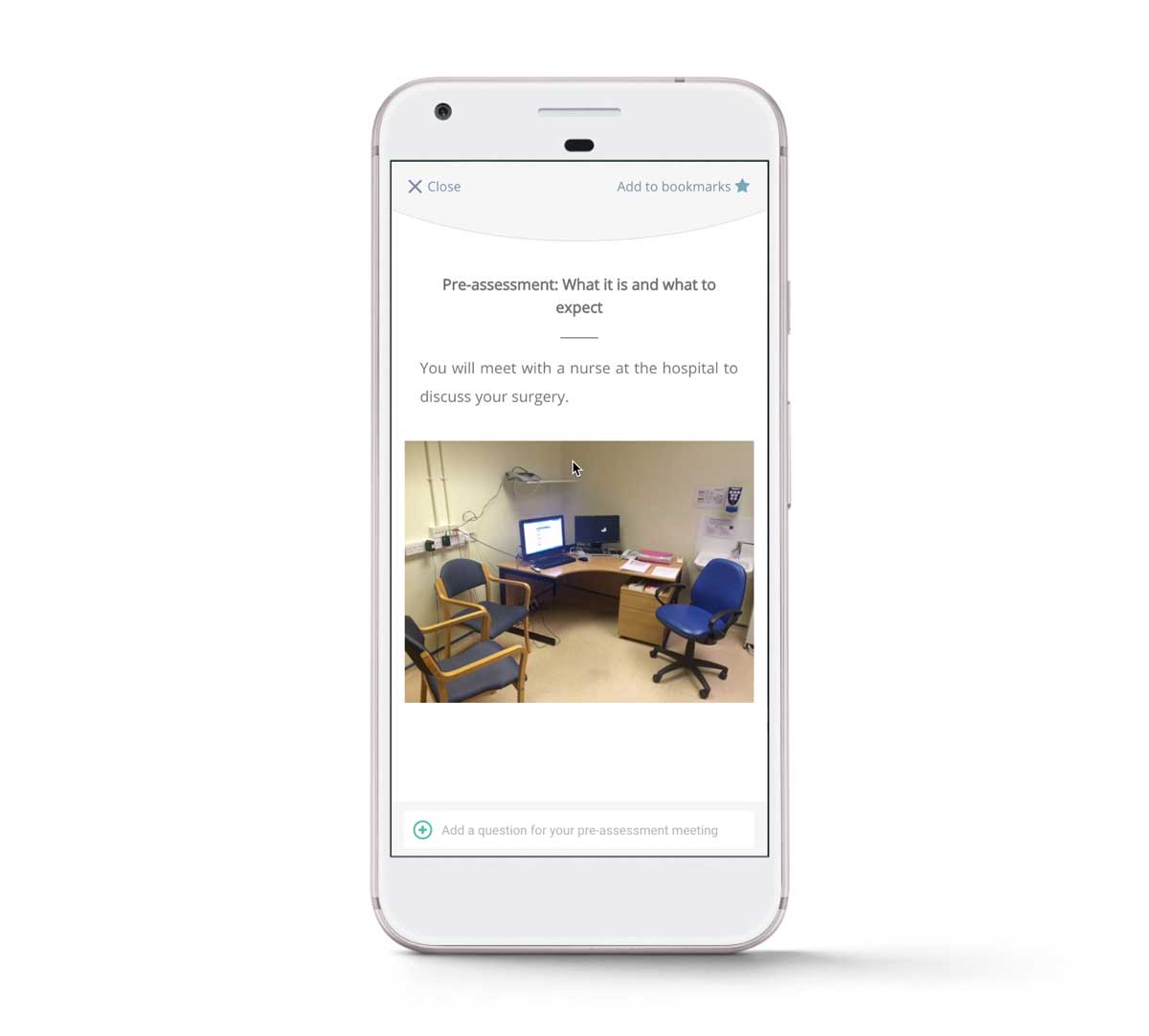 A screen from the prototype that familiarises patients with the place of their treatment.
We conducted research with patients and staff at three NHS Trusts in England.
One of our main discoveries was that a highly variable definition of Enhanced Recovery among staff leads to significant interpretation of the tasks underpinning the evidence. Simply put, Trusts were not realising the full benefits of the programme in practice as they were shown in the research.
Our team of designers, clinicians and software developers initially conceptualised solutions to standardise this definition, focused at clinical teams who bear a heavy burden of documentation. But it wasn't until our team shadowed a pre-surgery assessment nurse that we discovered the importance of patient activation before surgery to impact Enhanced Recovery after surgery. We saw the opportunity to have an 'activated' or 'empowered' patient serve as the driver for a "text book" Enhanced Recovery pathway.
"I wish I had this while I was going through my hysterectomy. Nobody tells you the things I see here while you're in hospital — and it really would have helped."
Previous hysterectomy patient
The prototype app that we created responds directly to the human insights we uncovered by talking to patients and staff.
The app is introduced to patients after deciding with their doctor that a hysterectomy is the right course of treatment. It starts with an in-depth on-boarding process, through which we gather key information about the patient's level of activation. By asking questions like the types of support they have at home or how involved they expect to be in recovery, we can tailor relevant content further along the pathway. After on-boarding, patients are given content in a form they recognise — a feed, similar to that of Facebook. Everything from photos of the outpatient building they are due to visit to stories from past patients at the same hospital are delivered at the right time and place.
User research with patients and staff has allowed us to quickly modify our prototypes and has yielded overwhelmingly positive feedback.
By obtaining a baseline level of patient activation at the start, we may be able to determine increases in activation by tracking both online and offline activity before, during and after surgery. We hope to make the correlation between increased patient activation and adherence to Enhanced Recovery Programmes not only from patients but also from staff in hospital.
While this prototype was built specifically for hysterectomy patients, our discoveries and design decisions apply to a multitude of projects. This project contributes to Helix Centre's growing body of patient engagement knowledge and will input into a variety of ongoing projects.